I was going to get up just before sunrise today, and go for a walk, but it was snowing. and my waking self decided to think about dreams (they were, from what I remember, about deep blue love, yarn and instructions) instead.
the day has taken me other directions.
podcasts
.
LibriVoxing
. reading
interesting snippets
. writing out thoughts.
watering plants
.
it's still a bit too cold to go for a very enjoyable walk today. reading and writing are much more appropriate.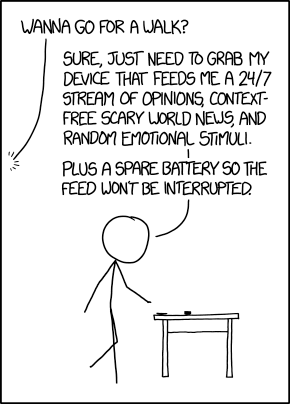 this was
the xkcd on Wednesday
. it resonated enormously, matching up with all my recent feelings of having too many screens in my face all the time. mostly it's work. but also twitter and email and youtube and endless vacillating between distractions and productivity and in-between.
I used to leave the house without my phone all the time. maybe I should do more of that. just every once in a while.
I also used to write in paper notebooks much more than I seem to do these days. I definitely should do more of that. just let me finish this blogpost first.
ps:
this audio series
is adorable and if you like music and adventure, you will probably like it.